#52 – RECOVERY FOR THE REVOLUTION
Reframing narratives around addiction through a decolonized approach.
1 year ago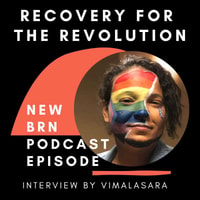 Recovery for the Revolution
Carolyn, who uses they/them pronouns, is a queer, non-binary Afro-Indigenous neurodivergent human in long-term recovery and believe recovery from a decolonized, anti-oppression lens can point the collective towards liberation. They are breathing fresh life into recovery and they are a powerhouse of wisdom, I'm really excited to see what comes next for Carolyn and Recovery For the Revolution. To contact Carolyn you can check out www.RecoveryForTheRevolution.Com. They offer coaching and advising services as well as a form to contact them to speak at an event or on a podcast and are working on offering more community and workshop spaces for the collective. And of course, don't miss our live BRN Academy series the first Sunday of each month. Our guest teacher March 7th will be Rachel Lewis from Insight Meditation Society and Spirit rock.
https://www.buddhistrecovery.org/donate https://www.patreon.com/buddhistrecoverynetwork